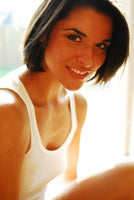 Welcome
I'm Jocie Espinoza, The Nutrition Tank's founder and lead nutrition specialist. I'm a mama to a beautiful little girl and happy wife to my love, Bryan.  Home base is currently Vancouver, but you might see us in our favourite Toronto neighbourhood, Leslieville, too.
I've been working in the health and wellness industry for over twelve years. Through my personal training and nutrition business, I've had the opportunity to work with many amazing clients, including athletes from the National Ballet of Canada, the OHL and the NHL. I have a degree in Food and Nutrition (BASc) from Ryerson University and a PN1 certification from Precision Nutrition. 
The relaunch of The Nutrition Tank makes me excited! In my professional experience, achieving optimal health (fat loss, increased energy, better performance, better sleep, etc.) is a personal feat that demands commitment from its learner with an openness to change, and constructive facilitation and monitoring from a trained coach. I believe this process has three pillars to be successful: education, motivation and accountability. Our nutrition coaching programs at The Nutrition Tank successfully deliver all three of these requirements with honesty, integrity and compassion.
Learn More
Our Services
Our clients are diverse and so are their needs, which is why we love personalized coaching and programming. We help our clients lose weight, lose fat, increase their strength, increase their energy and increase their performance in and out of the gym. Whatever their goal, we have the tools and skills to help them get there.
The Nutrition Tank offers online nutrition coaching with one of our educated and highly skilled nutrition specialists. We take nutrition coaching seriously and understand that our clients' success is dependent on our ability to educate, motivate and establish accountability within their daily lives.
Learn More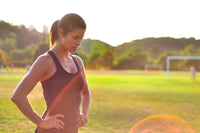 Our Approach
We aren't selling overnight abs, so if you're looking for that, you've come to the wrong place. Instead, we want you to look amazing and feel amazing, for life! As much as the quick-fix diet plans sound appealing, they don't teach you how to make changes to your eating habits that are lasting and lifelong, but we do!

We start by getting to know a bit about you, your lifestyle and your goals and where you're at in terms of your readiness for change. Then we start tailoring a program that builds on establishing healthy eating habits and patterns.

Learn More